DATA + AI for Business is Now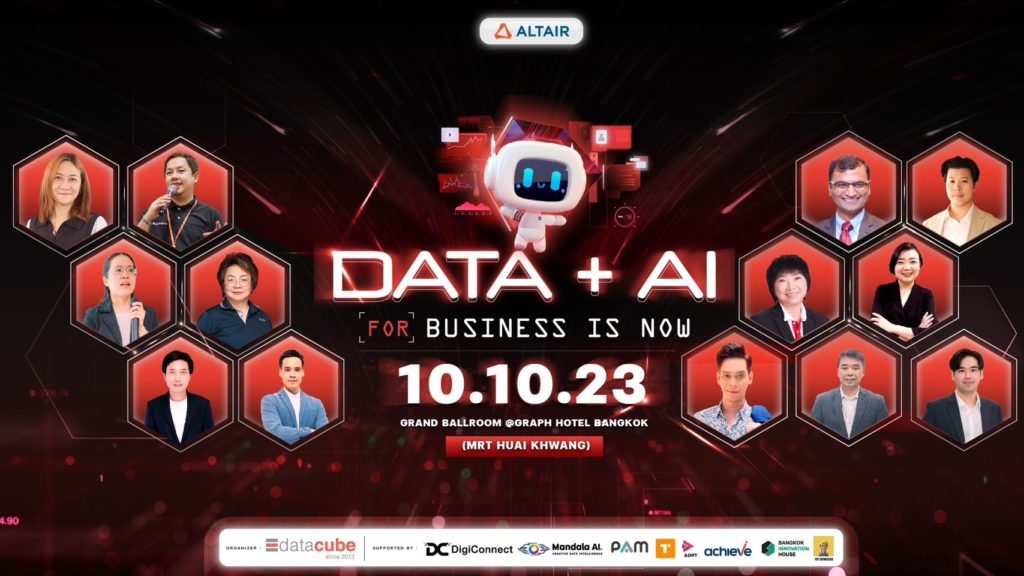 10 ต.ค. 2566
09:00 – 17:00 (UTC+7)
Grand Ballroom @Graph Hotel Bangkok ถ.รัชดาภิเษก (MRT ห้วยขวาง ทางออก 2)
"DATA + AI for Business is Now" สัมมนาครั้งยิ่งใหญ่ครบรอบ 10 ปี datacube จะมาอัปเดตเทรนด์ เทคโนโลยี และ Use Case จากหลากหลายธุรกิจที่นำ DATA + AI มาใช้ประโยชน์จริง
พบกับผู้บริหารระดับสูง (C-Level) และวิทยากรผู้เชี่ยวชาญเฉพาะด้านจากหลากหลายอุตสาหกรรม มาร่วมแบ่งปันความรู้ เทคนิค และประสบการณ์
เนื้อหาอัดแน่นตลอดทั้งวัน ตั้งแต่ 9.00-17.00 น. 10 Sessions l 13 Speakers !!
Frictionless AI : Empowering Enterprise-Wide Adoption and Innovation
โดย Mr. Srirangam R Srirangarajan : Managing Director for the ASEAN & ANZ Regions for Altair Engineering
Driving Business Growth with DATA + AI  แบ่งปันความรู้ และความคิดเห็นในแบบ Panel Talk กับ
– K. Natcha Nititsopon : CIO, Jaymart Group Holdings PCL
– K. Suwattana Sae-tang : CIO, LPN Development PCL
– K. Rin Watakanont : VP – Risk Management, InnovestX Securities Co., Ltd.
– Dr. Akalak Yimwilai : CEO & Founder, Ocean Sky Network (Mandala AI)
– Dr.Pahnit Seriburi : CEO, Bangkok Innovation House Co., Ltd.
โดยมี MC คือ
– Dr. Eakasit Pacharawongsakda : CEO & Founder, Cube Analytics Consulting Co., Ltd. (datacube)
โดย Dr. Akalak Yimwilai : CEO & Founder, Ocean Sky Network (Mandala AI)
โดย K. Chananya Lauhabandhu : Co-Founder and Marketing Director, 3DS INTERACTIVE CO.,LTD (PAM)
โดย K. Nattapon Muangtum : Founder, EverydayMarketing
โดย K. Sitthinunt Pholvisutsak : Owner & CEO, Content Shifu
โดย K. Tutpol Ardsomang : Reliability Engineering & Data Science Manager, SCGC
โดย K. Sivawong Khondee : Customer Experience Management with Lean and Automation, Krungsri
โดย K. Dr. Prachya Boonkwan : Researcher, NECTEC
โดย K. Dr. Eakasit Pacharawongsakda : CEO & Founder, Cube Analytics Consulting Co., Ltd. (datacube)